Sunday, September 30th, 2012
The heading on this blog says it's about home recording and acoustic guitars. I actually became an acoustic guitar nut before I became a recording nut. We hosted our first guitar gathering back in 2001 with the idea that I would have a chance to try out guitars I could never experience otherwise.
I was expecting three or four people to attend, but to my surprise we had guests from Oregon and from the LA area as well as nearly a dozen local players. When we lined the attending instruments up at the end of the event it looked like this:
That was the last time we captured a picture of all the guitars present. Even at this first gathering, the music and interaction with people was much more important than trying out new guitars, and at following events the number of instruments became overwhelming.
We Started a Tradition
Our second party included some recordings, the only one to do so until this year. The second party was also the one that led us to a bi-annual schedule. The Healdsburg Guitar Festival was well established by then, and our luthier buddies were busy with their show guitars, so we began holding events in even years, leaving the odd years for the HGF.
In 2005 we made an exception to our alternate years rule when a regular on the Usenet news group RMMGA (rec.music.makers.guitar.acoustic) planned a rare visit to California. Several folks asked us to host a get together to coincide with her trip and we had a terrific off-year event.
Our party in 2006 was the first with a strong Hawaiian music presence. Members of the halau where Lynn was dancing brought `ukulele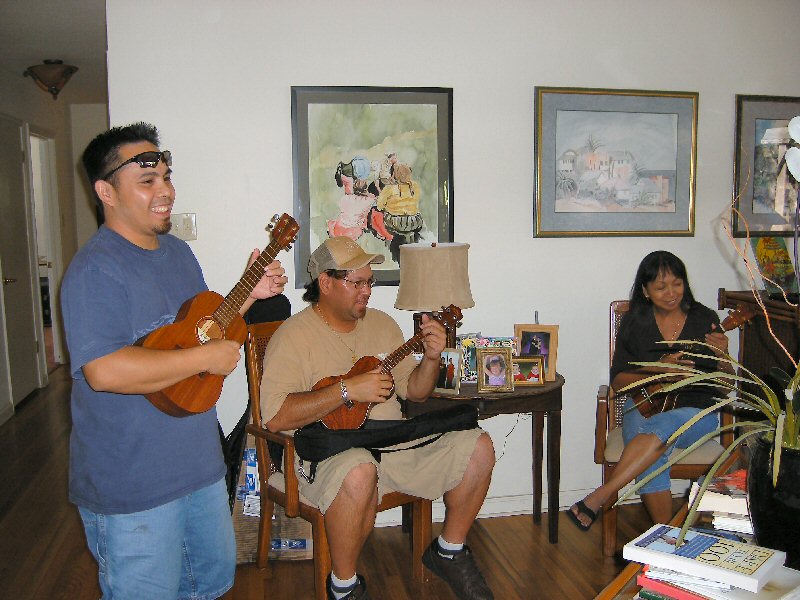 and hula: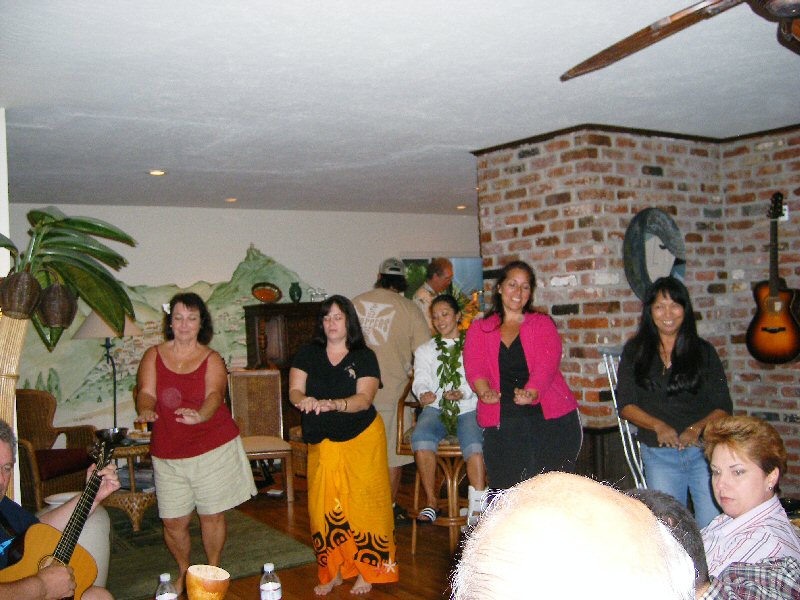 Our very special guests were the Brown Ohana from Maui. Kevin and Ikaika Brown were touring Northern California and I had been their road manager on the tour. The became the center of a spectacular kanikapila in our living room.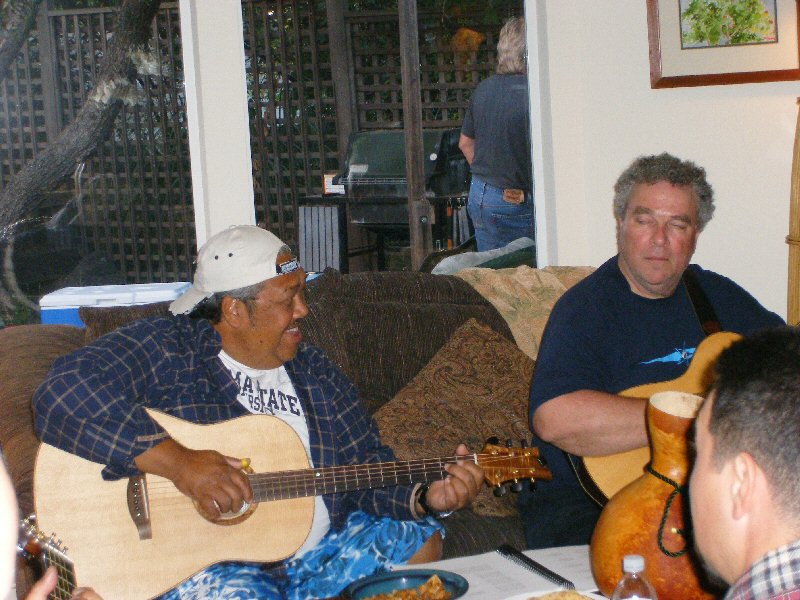 The parties have continued over the years with a number of luthiers attending each event and a wide variety of musicians and instruments. In a good year there will be four or five jam sessions in various styles all around the house and yard, luthiers trying instruments by other builders and swapping tips and stories. Several rooms will have players sampling instruments they may have only dreamed about before. We've seen just about every kind of acoustic guitar, from fine old vintage instruments to the most imaginative of handmade modern guitars, resonators, harp guitars, baritones, classicals, even `ukulele.
Flangdang
One thing that has bugged me along the way is coming up with a good title for each year's party. Until now I've tried to think up something new each time, and this year I was going to use Guitar Fandango 2012 in tribute to the wonderful Spanish Fandango parlor guitar piece. But as I was composing the invitation I remembered that Elizabeth "Libba" Cotten called her version of that tune Spanish Flangdang and I knew that would be the perfect choice. So I've adopted the name for future events.
Our Guitar Flangdang 2012 will hopefully be just the first of a new tradition, the Flangdang Video Booth. Although it was a small sample of the instruments and talents present, we captured a number of wonderful performances on video. I uploaded the clips to the Homebrewed Music YouTube channel and created a playlist.
For the Technically Minded
My video booth recording setup was as simple as I could make it. I set up a pair of mics, Audio Technica AT3035s in an ORTF-ish array, into an M-Audio DMP3 preamp. This provided phantom power and good clean gain. I created a chain of adapters to convert the output of the DMP3 into a single 3.5mm (1/8″) TRS (tip-ring-sleeve) stereo plug. Then I plugged that into the line in jack of my Zoom Q3HD. I adjusted the gain on the DMP3 to avoid overloading the Q3HD audio input. With an AC adapter on the Q3HD I could leave this arrangement setup all day and a video session could be controlled by a single button, the red "shoot" button on the Q3HD. I recorded at 720p/30 and PCM (uncompressed) audio on the Zoom.
After the party I dragged the files from SDHC card to the hard drive on my desktop machine. Our 20 or so clips had only used bout a quarter of the 16 GB card. I edited the clips in Edius Neo, adding titles (misspelled ones in many cases), trimming heads and tails with a bit of fade. Since I'd adjusted the preamp gain conservatively I raised the clip audio volume in Edius to compensate. There's no reverb, no EQ, so you're hearing the player and the instrument in the room. I rendered using the Edius Quicktime exporter, because that format gave me an option to used PCM audio for my upload. I exported the video as H.264 at 720/30.
I'm really pleased with this video booth experiment, and I'm hoping to have an improved version for the Guitar Flangdang 2014.
---
---
This entry was posted on Sunday, September 30th, 2012 at 8:35 pm and is filed under
Guitar
. You can follow any responses to this entry through the
RSS 2.0
feed. You can
leave a response
, or
trackback
from your own site.
One Response to ' Guitar Flangdang 2012 '
on June 16th, 2013 at 4:58 am

Fran,

Can you provide tablature for 'Imi Au Ia 'Oe, I would love to attempt to play that song?
Leave a reply
---