Tuesday, June 12th, 2007
Just before we left for Hawai`i in April, I received my handmade Go Type II Parlor guitar from Sam Radding at Go Guitars. You can see some clips of this little instrument in action at my Kaleponi Music News blog.
For the last few years, I've checked my full size guitar in a Calton case, but I really enjoy having a guitar with me during those long airport waits. When I learned that Mr. Radding would build one of his parlor guitars with a custom neck shape and bridge spacing, I signed up. His guitar turned out to be a great success, small enough to fit in the airliner overhead compartment, good enough to play on stage at the Royal Hawaiian Hotel.
When we returned from our trip, I contacted Matt Hayden to see if we could get together to compare his Larrivee Parlor to this new one. Matt's guitar is walnut and sitka, just like the Go, so the comparison seemed like a natural.
Here are some pics showing the two guitars side by side.
The Larrivee is several years older, so the sitka spruce top has mellowed to a lovely shade. The smaller body of the Go is evident in this shot, as is the compact headstock and lesser overall length.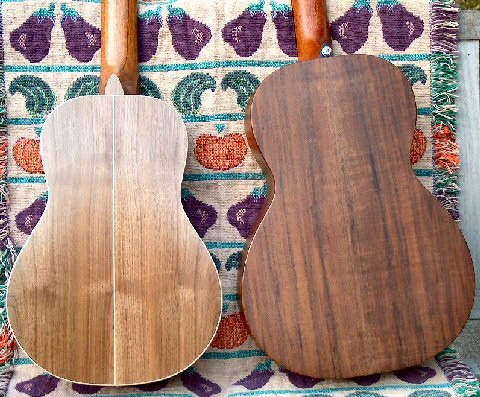 Looking at a closeup of the backs, I prefer the walnut back of the Larrivee with its slight curly figure and darker finish, but many people commented favorably on the interesting figure of the Go walnut. The bookmatch on the Go two piece back is nicely done, and the backstrip adds a little appeal as well.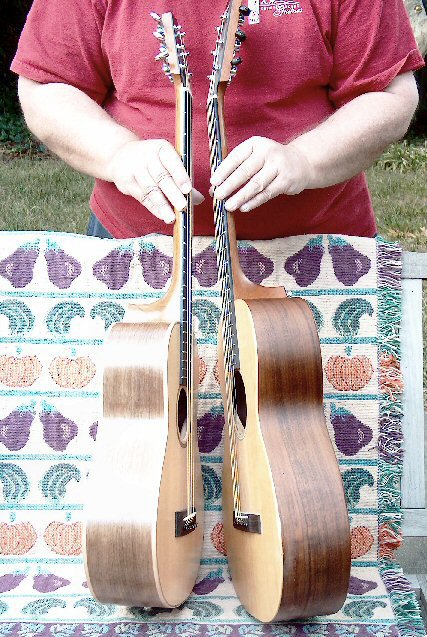 This side by side shot illustrates the shorter body and longer scale of the Go. I think it's amazing that Mr. Radding has squeezed so much guitar into such a diminuitive shape.
I plugged a DPA 4061 mic into my Marantz PMD670 recorder and played a verse of "Kui Lima" on each guitar. Here's the Larrivee sample (link). The Go sounds like this (link). In person, the Go seemed a little fuller and a bit louder. In fact, everyone who tried the Go so far has expressed amazement at the amount of sound that pours out of this tiny guitar.
As far as playability, the comparison is a bit unfair. I owned a Larrivee similar to Matt's but sold it because I had a hard time with neck shape and bridge spacing. One of the great advantages of the Go Parlor is the availability of custom neck shape and bridge spacing. The slightly wider neck and bridge on my Go Parlor makes all the difference in ease of playing.
The first generation of Larrivee Parlors, like Matt's, were built as style 01 Larrivees, which means they were stripped down models. They were also a wonderful bargain. But these days Larrivee only builds these guitars with style 09 trim. They're much more nicely finished but cost over twice the price of the older model. The Go, which is handmade and available with custom features, is a terrific value and a very fine way to carry your music with you wherever you go.
---